"Medical Claim" -Sylvia
I can't say enough about the way we were handled in our case. We were treated like family and Mr. Webre did an outstanding job in solving my case. He was always very professional from start to finish, kept me informed about the status of my case and went all out to make sure I got the best results.
"Client" -Holly
Mr. Webre represented my uncle in two cases. He was very professional, answered our calls whenever we called (no matter what time of day or night; even met us on weekends,) very knowledgeable in his field of expertise, and we consider a great addition to our family.
"Scott Webre.......best attorney ever" -Darnell
Very skilled and genuine. To the point and very open. He listens and advises. Very patient. A guaranteed winner. Thank you Mr. Webre. From Darnell and Dar'nyri.
"Advocate" -Margaret and Corey
We were involved in a car accident in Texas. Mr. Scott fought for us until the end. He was the one ready to go to trial if needed. We would recommend him to anyone.
"A great lawyer" -George
Scott represented me after an accident that resulted in a back injury. His professionalism and attention to detail were evident in every aspect of our journey. His consideration of my needs and well being were foremost in all decisions. His meticulous accumulation of data and pertinent facts resulted in a favorable outcome. He is not only a great lawyer I would wholeheartedly recommend to anyone but became a good friend at the same time.
"Excellent Representation" -Darren C
cott was professional and confident from the initial consultation and throughout my case. He is concerned for your wellbeing and honest. I would recommend Scott to anyone and know they are represented by the best!
"My case." -Donna
Simply put, Mr. Webre BELIEVED that my loss could have been prevented and he believed in me. He is compassionate, professional and very knowledgeable. His staff as well. I will be forever grateful.
For More Client Reviews and Peer Endorsements, Visit:
Free Consultation
337-237-5051
No Recovery, No Fee
Practice Areas
Local Attorneys Licensed in Louisiana and Texas
To obtain justice through truth. To vigorously defend and prosecute clients' rights.
To restore the public's faith in lawyers, one person at a time.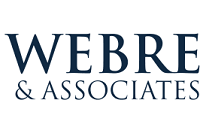 2901 Johnston Street, Suite 300
Lafayette, Louisiana 70503
www.webreandassociates.com
Phone: (337)­ 237-5051 | Fax: (337)­ 237-5061
Copyright © 2022, Webre & Associates - All Rights Reserved