Choosing a Lawyer
If you've been injured or have lost a loved one, choosing the right lawyer is critically important to ensure the well being of your family. You must find a lawyer you can trust completely – not just to provide first rate legal representation, but to talk straight and give sound advice in your best interest. Even though the advice you receive may not always be what you want to hear, you must be able to trust your lawyer to give you his or her honest assessment of your situation. And while we firmly believe we are the lawyers to do that for you, whether you select us or someone else, it is critically important that you speak with a lawyer you can trust as soon as possible, and that you take this decision very seriously.
Sit with any lawyer you are considering and try to understand whether you feel comfortable with this lawyer as a person. If you don't, you haven't found your lawyer yet. Do you think this lawyer will return your phone calls? Are you confident this lawyer is being straight with you? Can this lawyer hold your eyes when he talks to you? Does this person listen to you or frequently interrupt? Do you have his or her attention? If you were on a jury and this lawyer was giving a closing argument to you, do you think you would "follow" him? Is this lawyer a little too "slick" or too polished?
Ask for names of prior clients that you can contact as references.
When choosing a law firm, bigger is not necessarily better. Many larger firms may handle hundreds or even thousands of cases at a time, so no single client is likely to receive a great deal of individual attention. Clients may become frustrated by a lack of attention and dissatisfied with their experience.
We are not a large law firm. We know our clients. We provide personal attention. When you call us, you can speak with someone, or if not, we'll call you back quickly. We will treat you as we would want to be treated.
Again, choosing your lawyer is critically important, so make this decision wisely, whether you choose us or one of the many fine law firms in the area.
Free Consultation
337-237-5051
No Recovery, No Fee
Practice Areas
Local Attorneys Licensed in Louisiana and Texas
To obtain justice through truth. To vigorously defend and prosecute clients' rights.
To restore the public's faith in lawyers, one person at a time.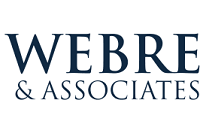 2901 Johnston Street, Suite 300
Lafayette, Louisiana 70503
www.webreandassociates.com
Phone: (337)­ 237-5051 | Fax: (337)­ 237-5061
Copyright © 2022, Webre & Associates - All Rights Reserved