Protecting Your Rights After an Injury or Accident
WHAT TO EXPECT
If you or your family member has sustained significant injury, you should expect a long and difficult journey. You may never be the same physically, and you will certainly face some very tough times.
You should expect your lawyer to do his or her best job in representing you, and if your case has merit, you should have a reasonable chance to obtain a reasonable recovery through the court system. Of course, there aren't any guarantees in litigation.
The litigation process is long; it does not happen overnight, and it is anything but easy. You will have to attend many appointments with your attorney and provide your thoughtful cooperation along the way. You will become frustrated with the delay and sometimes, perhaps, even frustrated with your lawyer as a result. Please understand that the legal process is not perfect, but our system is the best in the world, and to obtain a just result, we must play by the timetable of the court and abide by certain rules. There is no rushing justice. Rushed justice is certain to produce a poor result.
WHAT TO DO ONCE THE CLAIM HAS STARTED
In order to take advantage of your legal rights, it is absolutely necessary that you do your part. Often times, people think that success in a case depends entirely upon their lawyer, and that all they have to do is occasionally show up for an appointment. Nothing could be further from the truth. It is essential that you know what is expected of you and that you do your part. We will be sure you understand what is expected of you and will help you in any way we can along the way.
Always be mindful and truthful in all statements to any person regarding any aspect of this claim. Just tell it like it is. Don't spin it. Don't exaggerate. Don't omit facts. Exaggeration and selective memory have no place in litigation.
Collect all documents of any kind that are relating to your legal matter. Keep all receipts of medical and medication bills. Make notes of matters related to your claim for your attorney's use. Make a list of all possible witnesses to the alleged accident or injury, and get their addresses and phone numbers if possible. Make notes and keep records of any lost work.
Do not talk to anyone about your injury other than your doctor or spouse. If a family member or close friend asks how you're doing, you are free to tell them. And always, just tell the simple truth.
Attend your doctor's appointments and accurately report all of your problems and past problems without exaggeration or drama. And be sure to describe all of your problems as truthfully as you can.
WHAT TO DO AFTER A WRECK
Obviously, the first thing any person would do after a wreck would be to obtain emergency assistance, if needed, and to first handle all matters related to health and safety.
If you are injured, go to a hospital, medical clinic, or your own doctor. Do not delay.
Keep a camera in your car. Many people now have phones on their cell phones. If you get in an accident, take many photos of the accident scene in order to preserve that evidence. Photographs of an accident scene are commonly used to determine whose fault caused an accident. The relative locations of vehicles to each other and on the roadway are especially helpful in determining what happened before the wreck.
Makes notes of all persons involved. Obtain the name, address, and phone number of the driver and occupants of other vehicles involved in the accident. Obtain identity of the other driver's automobile insurer.
Any witnesses? Look around. If there's a guy standing on the corner and watching what's going on, approach him and ask whether he saw what happened. If he did, get his name and number and ask him what he saw.
Notify your insurance company. Whether the accident was your fault or the other guy's, notify your insurance company of the wreck as soon as possible. There is a phone number to call indicated in the documents provided to you by your insurer. You should report the accident but not provide your statement about how the accident happened until you speak with an attorney.
Do not speak about how the accident happened with anyone other than your own insurance agent or adjuster. If the other guy's insurance adjuster calls you, politely let him know you cannot speak about what happened until you consult with an attorney. If it turns out you do not hire a lawyer, you will then have to speak with the adjuster if you intend to resolve any claim for damages. For a brief discussion regarding whether you need an attorney see our Frequently Asked Questions.
Free Consultation
337-237-5051
No Recovery, No Fee
Practice Areas
Local Attorneys Licensed in Louisiana and Texas
To obtain justice through truth. To vigorously defend and prosecute clients' rights.
To restore the public's faith in lawyers, one person at a time.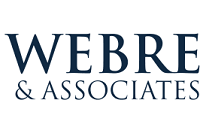 2901 Johnston Street, Suite 300
Lafayette, Louisiana 70503
www.webreandassociates.com
Phone: (337)­ 237-5051 | Fax: (337)­ 237-5061
Copyright © 2022, Webre & Associates - All Rights Reserved