Restoring The Public's Faith In Lawyers, One Client at a Time
Webre & Associates represent injured people in civil litigation in Louisiana and Texas. Thank you for visiting us on the web. We look forward to visiting with you in person.
Simple decency and common sense require that persons responsible for the injury and/or death of another must pay for the damages they cause. So does the law. We enforce our clients' rights in cases involving 18-wheeler accidents, automobile accidents, maritime and industrial accidents, defective products, medical malpractice, legal malpractice, and other professional malpractice, among others.
We understand the difficulties of the injured and those grieving the death of a loved one. If you're hurt, you can probably relate to one or more of the following.
You are experiencing physical pain you haven't had before, and your activities are limited. You wonder how long you will be out of work, and whether this injury will recover completely, or will it stick around? You are worried and not sure what to do.

Pain, anxiety, stress and worry weigh heavily. It's not getting better. You can't sleep very well. You're tired and irritable. The doctor doesn't seem to be taking enough time with you. You're afraid you're not being heard. You begin to feel a bit helpless and can see no end to your problems.

Your employer is giving you a hard time for being out of work. Maybe you applied for leave under the Family Medical Leave Act. Maybe it's running out, or maybe it already has. Maybe you've been terminated. Your stress and anxiety over your injuries and how your family will get by increase daily.

"Cabin fever" sets in. You were accustomed to going to work or otherwise leaving the house every day to do something. Now, you can't. Before your injury, you didn't consider what you did that physically demanding, but now, you realize it was more demanding than you thought because you can't do it anymore without paying the price later in pain.

Your friends or family have invited you to go fishing or camping, or maybe just to a movie or for a barbeque at a friend's house. It's out of the question. You can't go. Maybe you were left at the house by yourself. Or, maybe your family didn't go because you couldn't go.

Your spouse has been very understanding. But that's beginning to change a little. Now, your spouse is feeling the stress also. Maybe you're beginning to feel a little more alone in this than before. You and your spouse argue more. You are both irritable, not to mention, you are not accustomed to spending so much time together.

You're fussing at the kids more, and you feel terrible about that. Your injury is not their fault, but it's become their problem. You feel guilty and don't know what to do about it. For what it's worth, your kids probably understand your situation more than you may give them credit for.

You have cried in private more than once.

You can't wash dishes because leaning over the sink hurts your back (or you leg, arm, shoulder, etc). You can't vacuum or sweep for the same reason. You can't mow your grass and your yard doesn't look like it used to. Even going to the grocery store is hard.

You can't play with your kids in the yard, or spend the afternoon at the ballpark because your pain simply won't allow it. Your child doesn't really understand, and you feel guilty. Your life is passing you by in front of your eyes. More depression.

Your once happy home is not so happy anymore. Your inability to work leaves bills that stack up. The bills sit on the kitchen table and you're getting more and more behind. You don't know how much longer you can take it.

And when a loved one dies, well, words are not enough to describe the hardship on your family. The loss of your family member leaves a hole in your family and in your heart. The pain and loneliness are indescribable.
We understand. We want to talk to you about these things. We want to understand your struggle, and hope we can help with our insight and experience. We can help you find justice. That's what we do, and we are honored to represent people facing their trials of life.
So, where do you go from here? It's a long and complex process that requires that you contact a lawyer experienced in personal injury litigation. We surely hope you will call us, but whether it's us or someone else, you need to contact a lawyer as soon as possible. Do not wait. The longer you wait, the more difficult it becomes for your lawyer to be effective in seeking justice for you. With time, evidence is lost, memories of events fade, and generally, bad things happen. So, please call us today. We can help.
Free Consultation
337-237-5051
No Recovery, No Fee
Our personal injury and wrongful death practice includes cases involving:
We also handle cases involving Legal Malpractice, Mineral Rights and Real Estate Malpractice and other causes of action seeking monetary damages from those responsible for the business or personal harms and loss of our clients.
If you choose Webre & Associates as your attorneys, you will only owe us money if we collect money from someone else on your behalf. No recovery, no fee.
To obtain justice through truth. To vigorously defend and prosecute clients' rights.
To restore the public's faith in lawyers, one person at a time.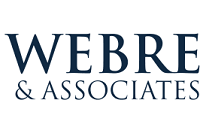 2901 Johnston Street, Suite 300
Lafayette, Louisiana 70503
www.webreandassociates.com
Phone: (337)­ 237-5051 | Fax: (337)­ 237-5061
Copyright © 2022, Webre & Associates - All Rights Reserved